Sarcoidosis now curable with Ayurveda
We treat Sarcoidosis with Panchakarma therapies followed by Rasayana therapy. Out of Panchakarma therapies 'Basti' was the treatment of choice.
Although treatment pattern varies depending upon stage of disease and body constitution. In many cases we treat with medicine only and therapies are not needed. We are presenting here, in short a case study of one of the pateints treated at HimVeda.
What is Sarcoidosis ?
Sarcoidosis is a multisystem granulomatous disorder. . It is more commonly seen in Afro-Caribbean population of North America. The etiology remains uncertain. Pulmonary localization is by far the most common in individuals with Sarcoidosis although liver, spleen , eyes, parotid glands and bones may also be affected. About 90% of patients with lung involvement may have an abnormal chest X-ray at some time during the course of their disease. Overall, about 50% develop permanent pulmonary abnormalities, and 5 to 15% have progressive fibrosis of the lung parenchyma. In acute and subacute cases, physical examination usually reveals dry rales.
Sarcoidosis frequently causes an increase in vitamin D production outside the kidney.Macrophages / histiocytes inside the granulomas convert vitamin D from its inactive form 25-hydroxyvitamin D to its active form, resulting in elevated levels of the hormone 1,25-dihydroxyvitamin D and symptoms of hypervitaminosis D that may include fatigue, lack of strength or energy, irritability, metallic taste, temporary memory loss or cognitive problems.
The Case
A 52 year old American female of Caribbean descent came to our OPD, with complaints of breathlessness even on mild exertion , fatigue, lack of strength and sinus drainage. She had been diagnosed with Sarcoidosis 16 years back and had taken a high dose of steroids at that time. Her chest Xray showed opacities as a result of old Sarcoid.1,25 Vit D levels were elevated at 58 as expected in a case of Sarcoidosis.
Sarcoidosis treatment in Ayurveda takes into account that it is a 'dhatugat vikaar' (disease at cellular level) and hence shodhan procedures (basti) are preffered.
7 Kashaya Bastis were administered over a period of 14 days. Remarkable improvement was seen in her condition after the therapy. Her breathing was very relaxed even on moderate exertion .She felt energetic and lighter. She felt her body had changed in many ways which she could not explain. She lost 8 kg during the treatment. After the Basti treatment Rasayana therapy was initiated.
Her condition continued to improve drastically. After 1 month of Rasayana therapy repeat chest Xray and blood tests were ordered. Her post therapy Xrays showed no signs of any opacities. 1,25 Vitamin D levels had come down to 22 well within the desired limits. Her GFR which was earlier was 95 was now 113 which means her kidneys started to work much better comparable to a 20 year old.
The patient continues to witness progress in her health.
*The names of patient and doctors have not been revealed due to privacy policy of HimVeda
Before Treatment
After Treatment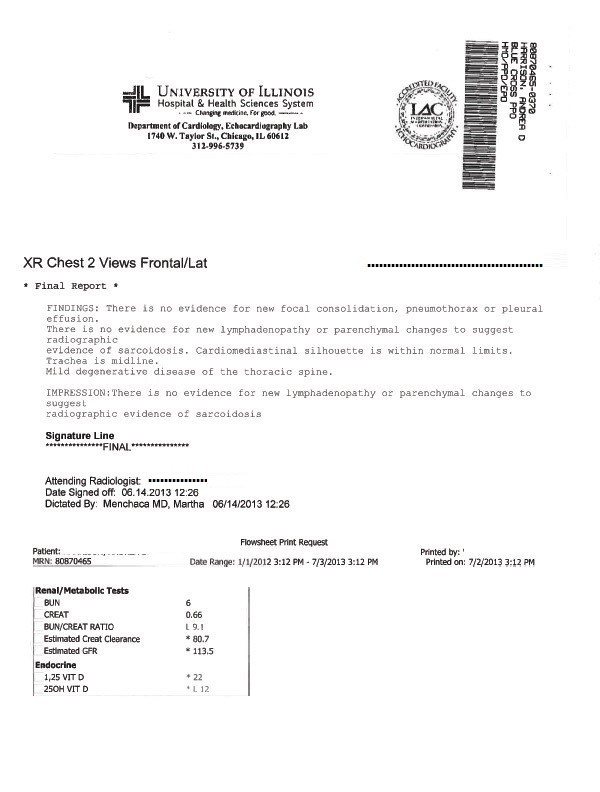 …